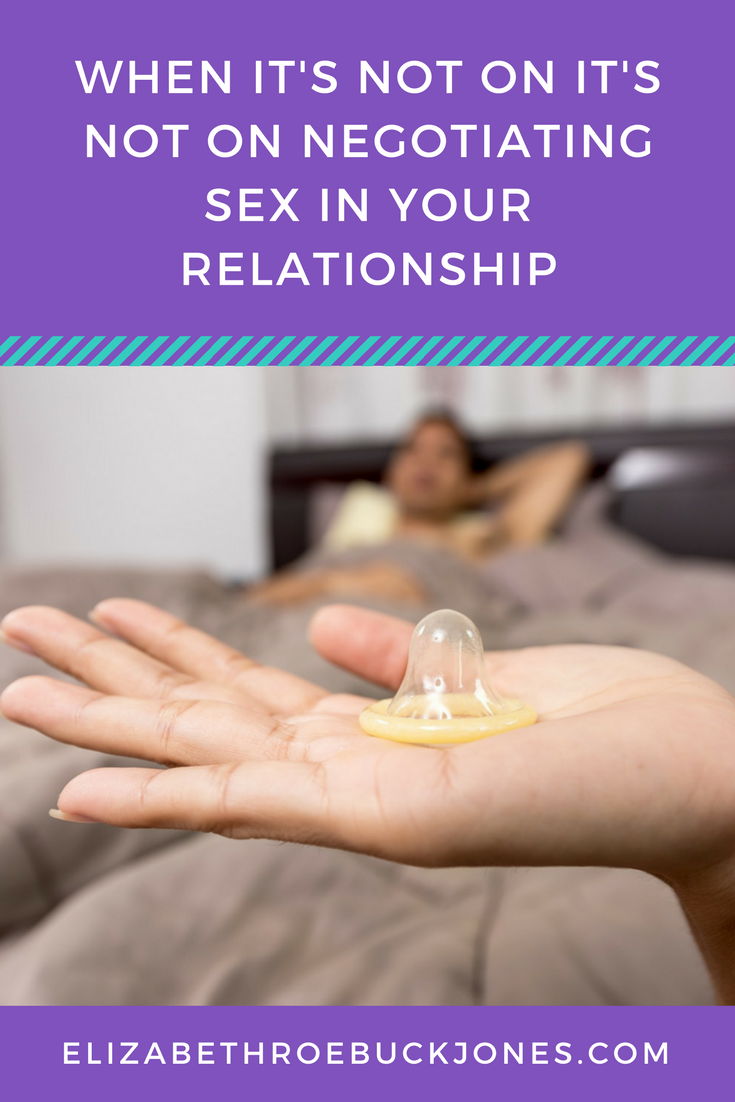 When It's Not ON – It's Not ON Negotiating Sex In Your Relationship
Talking about sex in your relationship gets easier as the relationship progresses.  The problem is if you wait until the relationship heats up and then try and assert your boundaries around what is and isn't ok for you, you are setting yourself up for a misunderstanding, at worst for your boundaries to be violated and to feel as though you are sexually out of control.
How can you start a conversation about sex when you have first met someone.  This can be difficult, especially if you are wanting to hold off on your physical relationship until you have got to know someone a bit better, so you can pace the relationship.  So it is important to talk about the topic in a way that is clear and direct and not in a way that could be perceived as an invitation to initiate sex.  
This conversation is important because it is about setting your ground rules in the relationship.  You are teaching your partner that you are going to be clear about what you want in your relationship, that you don't play mind games, and you expect the same from them.  
Start the conversation when you are in neutral territory, not when you are at each other's houses and a conversation about sex could progress into actually having sex.  This is not the purpose of the conversation.  Say something light like "What do you enjoy in your sex life" to get the conversation started.  You might find that your partner is just as anxious about how sex will be between you as you are.  Some cultures and even people who have come from very closed families can find it difficult to talk about sex, but this conversation is important to have, you cannot assume that someone has the same views about sex as you do.
What to talk about
There are three areas that you should talk about with your partner.  You need to talk about what you want from sex.  This means talking about what sex means to you, is it physical is it emotional, is it exclusive or can you have multiple partners.  How would an exclusive or non-exclusive relationship work between you? How often do you want to have sex is also very important regarding working out expectations. The next thing you need to talk about is what you enjoy and are willing to do when you have sex.  This includes things like sexual positioning, sex toys and the things you enjoy.  The last topic is your No line or the things you will not do. This can include anal sex, or oral sex or multiple partners for example.  Often people are very clear about this list, and it is important that you express clearly the things you will not do.  
Remember sexuality changes, what we might want to do at the beginning of a relationship may not be what we want to do sexually as the relationship matures, so getting into the habit of checking in with one another and including sexuality in the conversation important.
The signal
Good sex is sensitive to each other's needs, but it is also creative.  This is why it is important that you have a signal between you that lets your partner know when you need to stop or if you are not ok.  I strongly recommend not to confuse the word No.  No should mean no.  Some people, in the throes of passion, will say No No No.  If you can possibly use another word such as yes then you are giving your partner a very clear signal to keep going.  If you have arranged before hand that No means No then you have a way of telling your partner very clearly when you have reached your No Line, and you want to stop.  If you have said No clearly and your partner disregards you, this gives you important information about his respect for you and what you want in the relationship.
Safe Sex
That first conversation about your sexual relationship must include safety.  This is incredibly important.  Using condoms not only protects you from STD's but also are an effective way of protecting you from pregnancy.  Just because you use a condom does not mean that your sexual relationship should be any less pleasurable. Condoms will protect you from most STD's but will not protect you from genital herpes.  It is generally thought that herpes is only spread when the virus is active. However, there have been cases where herpes have been spread even without the active presence of the virus.  Also if someone has a cold sore on any other part of their body, such as the mouth, you should not allow them to be anywhere near your genitals as this virus can be spread to the genital area.
You should also think about whether you want your partner to have an STD test before having sex with them. It can be helpful to tell your partner that you will also have the test.  Remember that you should always ask to see the actual test results and not just trust your partner that they have a clear result.  There have been cases of people deliberately concealing life threatening illnesses such as AIDS this way.
If your partner is resistant to using condoms, or resistant to having an STD test, ask yourself if this is someone you want to have a sexual relationship with, remembering that if they are not interested in safer sex, it is highly likely they may be carrying an STD.  Every time you have unprotected sex with someone you not only have sex with them but with all the other partners, they have had sex with because your partner is potentially carrying STD's from every one of them.  
Safe Sex is as much about self-care as it is about caring for your partner.  If a person who you are with does not worry about safety, then they have little regard for themselves and their own health quite apart from the care they should have for you as their partner.
Self Care and relationship protection.
Having a conversation about sex at the beginning of your relationship is as much about self-care as it is about protecting your relationship.  If you are both clear about your expectations, it means you minimise misunderstandings, hurt or even trauma.  The way your partner responds to this conversation gives you important information about whether this is a person you want to be with or not.
Big Love
Elizabeth R-J
GRAB YOUR FREE COPY OF THE
10 CORE RELATIONSHIP BOUNDARIES EBOOK
Stop saying yes when you want to say no in your relationship download your FREE COPY of 10 Core Relationship Boundaries CLICK HERE This FREE EBOOK will help you cut though the overwhelm so you can be clear about who you are, what you want and who you want to spend your life with.
AND.......REMEMBER TO SIGN UP FOR MY FREE FACEBOOK GROUP
If you want to hang out with me and thousands of other wise women in our supportive community, make sure to CLICK HERE TO JOIN MY FREE FACEBOOK GROUP

GET ON THE WAITING LIST FOR THE
FREE

RELATIONSHIP BOUNDARIES CHALLENGE

CLICK HERE to join the wait list for this FREE 7 Day Challenge that runs in my FACEBOOK GROUP
Did you enjoy my blog post? If you would like to know more about my workshops, courses group programs and MEMBERSHIP SITE please join my community to keep in touch.
Related posts: