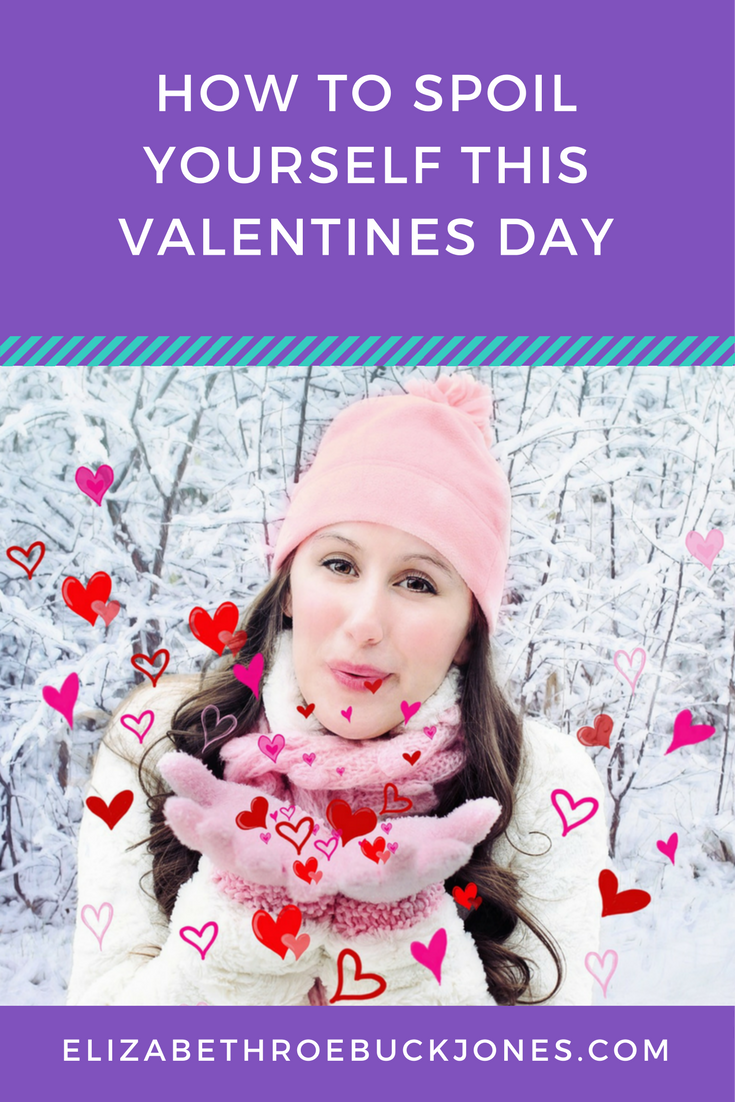 Spoil Yourself This Valentine's Day
Everywhere I go.  Everywhere I look there are chocolates, flowers, teddy bears all in cheap, tacky shades of bright red and hot pink.  Alright…..I admit it many many years ago I was right into all of it.  But honestly, if I am realistic what could be less romantic than knowing on Valentine's day that you are going to be romantic?  The worst part is if your partner doesn't do what you expected he would, or you are spending Valentine's day on your own.
I am all for having a fabulous time with your partner, and I don't think it hurts to have a special day to remind you that you should make a special effort to work on your relationship.  It just shouldn't be once a year or tacky for that matter.  The idea is that you work on your relationship all the time together.  
However, this post is for those of you who know you will be spending Valentine's Day on your own.  Take this day as a green light to spoil yourself.
   

Get really dressed up (even if you are just going to work).
   

Put a flower in your hair.
   

Invite a friend over for dinner.
   

If you are feeling bad, go and have a really aggressive workout and give all that anger to the universe.
   

Have a massage.
   

Get your hair or nails done or both.
   

Love yourself and buy some flowers and chocolates.
   

De-clutter your bedroom and arrange everything in feng shui.
   

Write friendship cards to all your friends.
   

Visit Ikea and buy yourself some fairy lights.
   

Bake a cake, or something you love to eat – share it at work or with friends or eat it yourself.
  

 Redecorate a room and choose the colours you want without compromise.
   

Light candles and burn incense.
   Meditate.
   

Have a bath.
   

Make time to read something you've been craving.
   

Plan a holiday.
   

Join a Meetup group and make a new commitment to be social.
   

Go on a hunt for a new perfume, lipstick or new dress.
   

Buy yourself a sex toy (and use it)!
  

 Indulge in water therapy, or ground yourself in nature.
   

Watch a favourite movie.
   

Take a dancing class
   

Buy a set of oracle cards for inspiration.
   

Write a list of all the things you love about yourself and pin it where you can see it every day.
   

Wear hot pink lipstick all day
  

 Get rid of all the stuff your ex-gave you and make a fresh start.
   

Buy an indoor plant Spider Plant (Chlorophytum Comosum) It will grow almost anywhere and purifies the air.
   

Buy a colouring book and pencils; you are never too old to colour!
   

Volunteer.
Here are 50 ideas for all my single ladies to spoil yourself on Valentine's day.  Plan your perfect Valentine's Day and make it happen!!
Do whatever you like – it is your day – have fun – message me and let me know what you get up to
Big Love
Elizabeth R-J
GRAB YOUR FREE COPY OF THE
10 CORE RELATIONSHIP BOUNDARIES EBOOK
Stop saying yes when you want to say no in your relationship download your FREE COPY of 10 Core Relationship Boundaries CLICK HERE This FREE EBOOK will help you cut though the overwhelm so you can be clear about who you are, what you want and who you want to spend your life with.
AND…….REMEMBER TO SIGN UP FOR MY FREE FACEBOOK GROUP
If you want to hang out with me and thousands of other wise women in our supportive community, make sure to CLICK HERE TO JOIN MY FREE FACEBOOK GROUP

GET ON THE WAITING LIST FOR THE RELATIONSHIP BOUNDARIES CHALLENGE
CLICK HERE to join the wait list for this FREE 7 Day Challenge that runs in my FACEBOOK GROUP

Did you enjoy my blog post? If you would like to know more about my writing including freebies and updates regarding my soon to be released book: Stop Kissing Toads – Pucker up and find your handsome prince