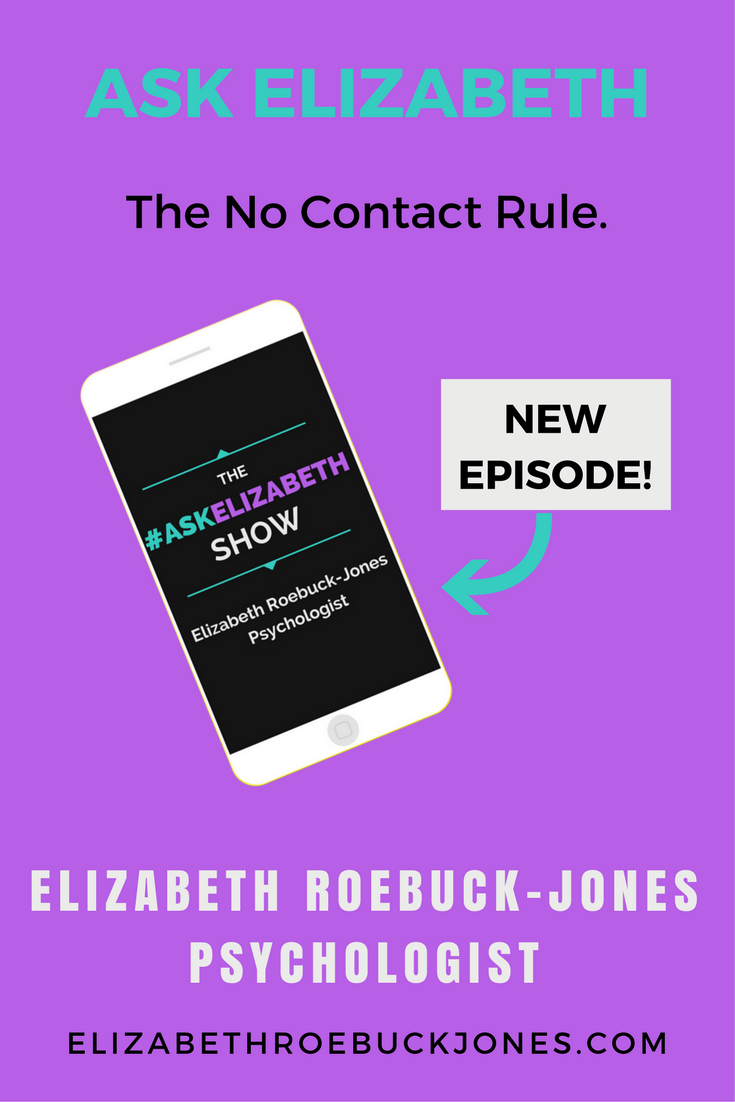 Ask Elizabeth: The No Contact Rule
Dear Elizabeth
I have been in a toxic online relationship with a toad for about eight years. He has sucked my soul like some kind of vampire, but I am finally at a place in my life when I feel like I can let it go. It was always hard, because it takes place on a blog, which gives me more than just this relationship with him. It gives me self expression and a journal of my life to look back on. Although, I am not sure it would even exist without him.
My question is this: is it a good idea to keep writing even though I have turned off the facility that lets me see his presence at all? Some part of me wants to cut him off completely, perhaps so that he will miss me and maybe get in contact, but I have realised over the past few days of not being able to see him, that I really don't care about him at all, much less love the guy. I barely know him!
It was just fuelled by his attention, and I got in a loop with it, and all the electronic chocolate gave me the illusion that I felt something for him, when I really couldn't care less.
I am just wondering if you think that I should keep this piece of my self expression and ignore the fact that he is probably still reading it, or if you think I should cut it off completely and starve the toad completely.
If I write, he will get access to my soul, which is what he has wanted all these years. He will get what he wants without having to put in the least bit of effort, and I think that if the process of writing makes me think of him, then I am going to have to cut it off completely, because one of the reasons I want to break up with him is to open myself up for a real relationship. If the term 'technically single, emotionally unavailable' means anything to you? That is what it felt like.
Thank you for your question
My understanding is that you met this guy electronically and have developed an 'online' relationship with him.  That you recognise that you have a pattern of relating that has become toxic and I suspect emotionally abusive.  So now you are continuing to blog but have cut him off so that you don't have any contact with him but know in yourself that this toxic toad can read your writing.
I can't really tell you what to do as this is your experience.  What I would say though is toxic toads can be very sticky.  The toxic pattern of makeup and break up even if it is done through words online can be incredibly addictive. There is a toxic cycle whereby you have an argument and then a pause where you both go away to regroup, then one of your pursues the other, and you can move into a wonderful honeymoon space.  However, if there are some toxic patterns going on between you and things are not properly resolved, then you can find yourself repeating a toxic cycle that goes around and around becoming more and more abusive with repeat of the cycle.  You are most vulnerable at the pursuit stage as this is when a toxic toad will try and draw you back in.  If you change your behaviour and do not respond you may find this man will chase harder.  The pattern can be very addictive as we can be drawn in by the emotional highs when things are good.
If you want to make yourself available to be with someone in a healthy intimate relationship, then you need to be able to separate from this toxic interaction which is what you have done, which is great.  However knowing how addictive, toxic toads can be I wonder if knowing he is 'right there' might be a temptation to interact again and get drawn back into the unhealthy abusive cycle.  Only you can answer how strong you can be and what you need to put in place to keep yourself emotionally safe.
If this blog is your blog or forum, I wonder at the wisdom of moving on and either starting a new blog or joining a new forum and making a fresh start.  It would be a shame to stop writing.
If you would like more information about how to put NO CONTACT in place click HERE to connect to my blog post on THE NO CONTACT RULE
Big Love
Elizabeth R-J
GRAB YOUR FREE COPY OF THE
10 CORE RELATIONSHIP BOUNDARIES EBOOK
Stop saying yes when you want to say no in your relationship download your FREE COPY of 10 Core Relationship Boundaries CLICK HERE This FREE EBOOK will help you cut though the overwhelm so you can be clear about who you are, what you want and who you want to spend your life with.
AND.......REMEMBER TO SIGN UP FOR MY FREE FACEBOOK GROUP
If you want to hang out with me and thousands of other wise women in our supportive community, make sure to CLICK HERE TO JOIN MY FREE FACEBOOK GROUP

GET ON THE WAITING LIST FOR THE
FREE

RELATIONSHIP BOUNDARIES CHALLENGE

CLICK HERE to join the wait list for this FREE 7 Day Challenge that runs in my FACEBOOK GROUP
Did you enjoy my blog post? If you would like to know more about my workshops, courses group programs and MEMBERSHIP SITE please join my community to keep in touch.