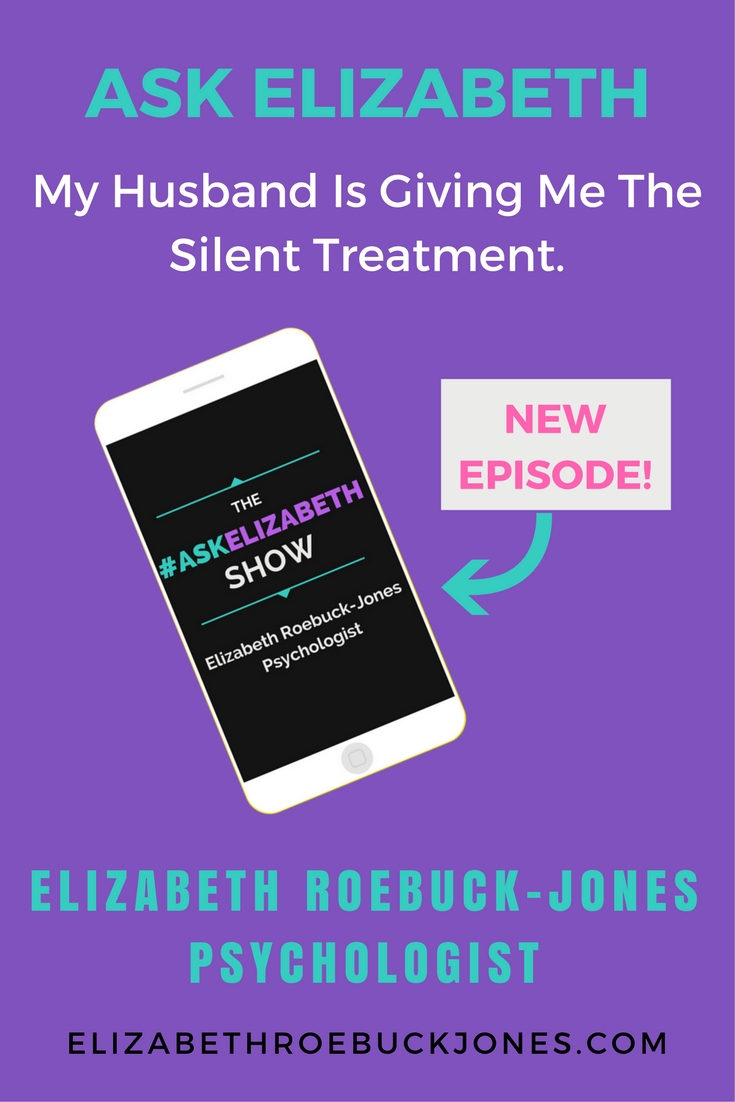 Ask Elizabeth: My Husband Is Giving Me The Silent Treatment
Dear Elizabeth
"My husband has been giving me the silent treatment since Saturday night after a fight.  Absolutely ignoring me.  What do I do?  just ignore him and keep pretending I'm fine? – We only got married in April."
Thank You For Your Question.
I am so sorry this is happening to your relationship so soon after your marriage.  The silent treatment is a nasty form of abuse.  Being silent after a fight and refusing to speak to your partner is emotional abuse.  This is because your partner is deciding when he will and will not engage in the relationship.  He is deciding when a resolution will occur and he is preventing you from having a right of reply until he is ready.  The silent treatment can also be used as a ploy to avoid resolution within your relationship.  As often what happens is the person not speaking will just 'decide' to speak again without initiating a conversation about why they were so upset.  This then put the responsibility on you to initiate a conversation about why you had an argument in the first place.
Sometimes people can be silent after an argument because they are processing their feelings such as confusion, disappointment and anger.  However, when the silence lasts for days, this goes beyond the normal separation that occurs when you disagree with your partner and becomes about power and control over you and the relationship.  Men who decide to manipulate their partners using control tactics such as silence often have anxiety about their relationship that they may not even be consciously aware of.  To manage these feeling's they will use silence as a tactic to take back the power balance.  
Anxiety in a relationship is often about fear of loss, either fear of having their power within the relationship eroded or fear of loss of the relationship entirely. So by feeling in control, the man alleviates his fear that he might be undermined or you might leave as a result of the argument.  The sad thing is silence used as manipulation is such a hurtful and destructive approach to managing his feelings that the result is the opposite effect.  The silent treatment, if it happens often enough will eventually destroy the intimacy in your relationship.
Often abusive tactics that are about power and control are associated with narcissistic personality disorder.  I don't believe that it is helpful to think about personality disorder in association with relationship abuse.  This is because not all narcissists are abusive and personality disorders are rarely ever uncomplicated, which makes identifying them difficult.  Rather than thinking about the personality disorder you are far better to learn about and recognise abusive patterns.  
What should you do about it?  This is something only you can answer.  However, what I will say is if you do not call your boundary about his behaviour it will repeat and each time he gives you the silent treatment it will be worse.  I have seen women in therapy where after years of abuse their partners are silent for weeks at a time.  If you do not want this behaviour to be part of your relationship, then you need to address it with your partner in a respectful way. You need to teach him how you want him to treat you with your behaviour towards him.  This helps you maintain your integrity and self-empowerment. Wait for the right time to speak with your partner or wait until he has decided he will speak with you.  I would strongly advise you to start the conversation by asking your partner about his thoughts.  Men are often not in touch with their feelings and so to ask them how they feel can cause them to shut down.  Use I statement's about how his silence makes you feel. For example; "When you don't speak to me for such a long time after an argument, I feel as though you don't care for me or us as a couple." Most importantly you need to communicate that this is a behaviour that is destructive to the relationship if it continues. For example "If you decide you don't want to speak with me we can't resolve anything and eventually we will lose how close we are and I don't want that to happen." Only you can say where your no line is with this silence.  If you decide to say that a repeat of the silent treatment will cause you to end the relationship, you must follow through.  Empty threats to leave dilute the threat and eventually to make such a strong statement will have absolutely no effect on your partner.  So only ever threaten to leave if you intend to follow through.  If you absolutely cannot speak with him, a letter can be a very effective way of communicating, especially as you can read it over, measure your language and say everything you feel you need to.
You cannot make your partner stop abusing you with his silence.  However, you can bring the impact of his behaviour into his awareness through describing the effect of it on you, and the ultimate consequence which is the loss of the relationship.  Your partner has to decide whether he wants to manage himself differently or not. If you express yourself to him, you give him every opportunity to change. By speaking your truth, you hear yourself say the words, and this can be incredibly empowering.
Big  Love
Elizabeth R-J
GRAB YOUR FREE COPY OF THE
10 CORE RELATIONSHIP BOUNDARIES EBOOK
Stop saying yes when you want to say no in your relationship download your FREE COPY of 10 Core Relationship Boundaries CLICK HERE This FREE EBOOK will help you cut though the overwhelm so you can be clear about who you are, what you want and who you want to spend your life with.
AND.......REMEMBER TO SIGN UP FOR MY FREE FACEBOOK GROUP
If you want to hang out with me and thousands of other wise women in our supportive community, make sure to CLICK HERE TO JOIN MY FREE FACEBOOK GROUP

GET ON THE WAITING LIST FOR THE
FREE

RELATIONSHIP BOUNDARIES CHALLENGE

CLICK HERE to join the wait list for this FREE 7 Day Challenge that runs in my FACEBOOK GROUP
Did you enjoy my blog post? If you would like to know more about my workshops, courses group programs and MEMBERSHIP SITE please join my community to keep in touch.