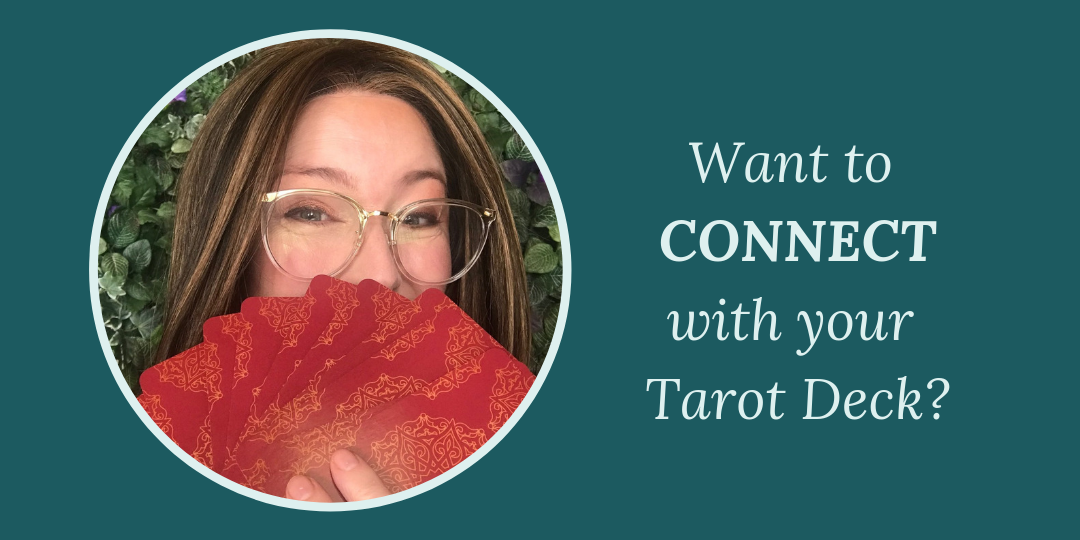 Hello I'm Elizabeth and I am so glad you have found your way here.

I help people just like you to connect with your deck so you can form an energetic relationship with the Tarot and read your cards with ease.
~ Do you struggle to remember the meanings of all 78 Tarot cards?
~ Are your readings disjointed because you can't stop referring to the 'little white book?'
~ Do you wish you had the confidence to listen to your intuition when you receive messages from the cards?
Most of all……
You know the secret sauce to learning the Tarot is handling your cards every day…….
BUT
You are super busy and you struggle to find the time to connect with your deck.
Then welcome, you are in the right place. Let me just say that I hear you and I see you because not that long ago I was where you are now.

So who is the face behind Connect With Your Deck?

Hi I'm Elizabeth and I went through quite a journey to acknowledge my talents and start working with the Tarot.
Working as a psychologist, I struggled to follow the correct therapeutic technique in my counselling sessions. The Tarot was always there in the background calling me, but I struggled to know where to start, let alone acknowledge that I might be better suited to being a psychic than a psychologist!
My supervisors would listen to tape recordings of my work and criticise me saying "Just because you are right doesn't mean you should be telling clients the answer to what is going on in their lives." So I tried very hard to be therapeutically correct, holding back when I wanted to say more. But, spirit had other ideas. Working with women in relationships sometimes I would say the exact words that their partners would say to them, tell them what others were thinking or where to find important information. I always had a special rapport with my clients, and I am sure many of them suspected what I didn't have the confidence to acknowledge for myself. That I am a Clairvoyant and have spiritual gifts.
All the signs of my gifts wouldn't go away — ringing in the ears, fatigue, dreams, food intolerance. I would become obsessed with things like orbs, bees or reptiles. I would find out later all of these have spiritual significance. It was as if spirit was trying to call out to me to make a change in my work.
In 2018 I decided to follow my heart and acknowledge my gifts. I let my psychology registration go and picked up my Tarot cards. It was a huge change in my life and deeply challenging. Deep inside I knew I had to take the leap of faith and believe in myself and my abilities. I was so sick of trying to be what everyone else told me I had to be.
And so here I am. Not only do I now read the Tarot for others but I also teach you how to connect with your Tarot deck and form your spiritual relationship with your cards. 
Once I truly connected to my Tarot deck magic happened.
If you would like to get started  >> Click Here <<  I can't wait to work with you.